OUR MISSION
TAIT Design Co. is an independent product design studio owned and operated by founder Matt Tait and co-founder Audrey Elkus. But what is a product design studio, anyways?
In this day and age, design is often created for digital spaces. Whether it's website design or graphics, while much of this work is great, all of it is short lived. No matter how much thought or energy is put into a project, with one click it can be deleted forever.
But physical design is different –– products can be timeless. And if they're made right, they can last for years to come. Products also have the power to bring attention away from our notifications and towards each other instead. This is the type of work we do. As native Michiganders, we opened our studio in Detroit to create products that improve modern work and life. Our line is composed of homewares and toys for all ages. We design with intention, make our products right here, and build them to last.
Founded in 2013, our mission is to create beautiful products that bring people together through a sense of play, impact the local economy through regional manufacturing, and empower the next generation of designers by showcasing Detroit design around the world.
AUDREY ELKUS | CO-FOUNDER & HEAD OF SALES
Our co-founder, Audrey Elkus, always had a deep fondness for art and design, and grew up surrounded by entrepreneurs. Her family still owns Detroit's oldest family-run men's clothier, and conversations around the dinner table were always business-related.
After studying art, computer science and economics at Wellesley College and the ELISAVA School of Art and Design, she returned to Detroit to help grow TAIT Design Co. full-time. She plays a key role in the design and art direction of products, plans short and long term business strategies, and oversees our 250+ wholesale relationships.
While both she and Matt wear many hats, her favorite parts of all of this are bringing new ideas to life, getting to hire art students directly from Wayne State and the College of Creative Studies, and seeing how happy people are when they receive something from TAIT.
MATT TAIT | FOUNDER & CREATIVE DIRECTOR
Our founder, Matt Tait, went to school to become a graphic designer, but he always had a love for industrial design and engineering. In 2013, he started TAIT Design Co. as a side project while working his day job as an Associate Creative Director in advertising.
The first product he designed was the Turbo Flyer – our now classic balsa model airplane kit. He screen printed them in his basement studio at night, assembled each one, and launched them on this site. The Turbo Flyer later went on that year to be featured in a show of the 33 best-designed products of 2013 at the AIGA National Gallery in New York.
TAIT Design Co. has come pretty far from the humble beginnings of that basement – winning awards, and having work featured in numerous online and physical publications. In the fall of 2015, Matt left his advertising job with over 8 years of experience to pursue "the side project" full time.


When we start the design process for any of our products, there's a lot we think about.
Designed objects can be purely beautiful and there is value in that alone. But we aim for our designs to create a memory or bond through a shared experience. We are intensely focused on the details, materials, and experience our products provide.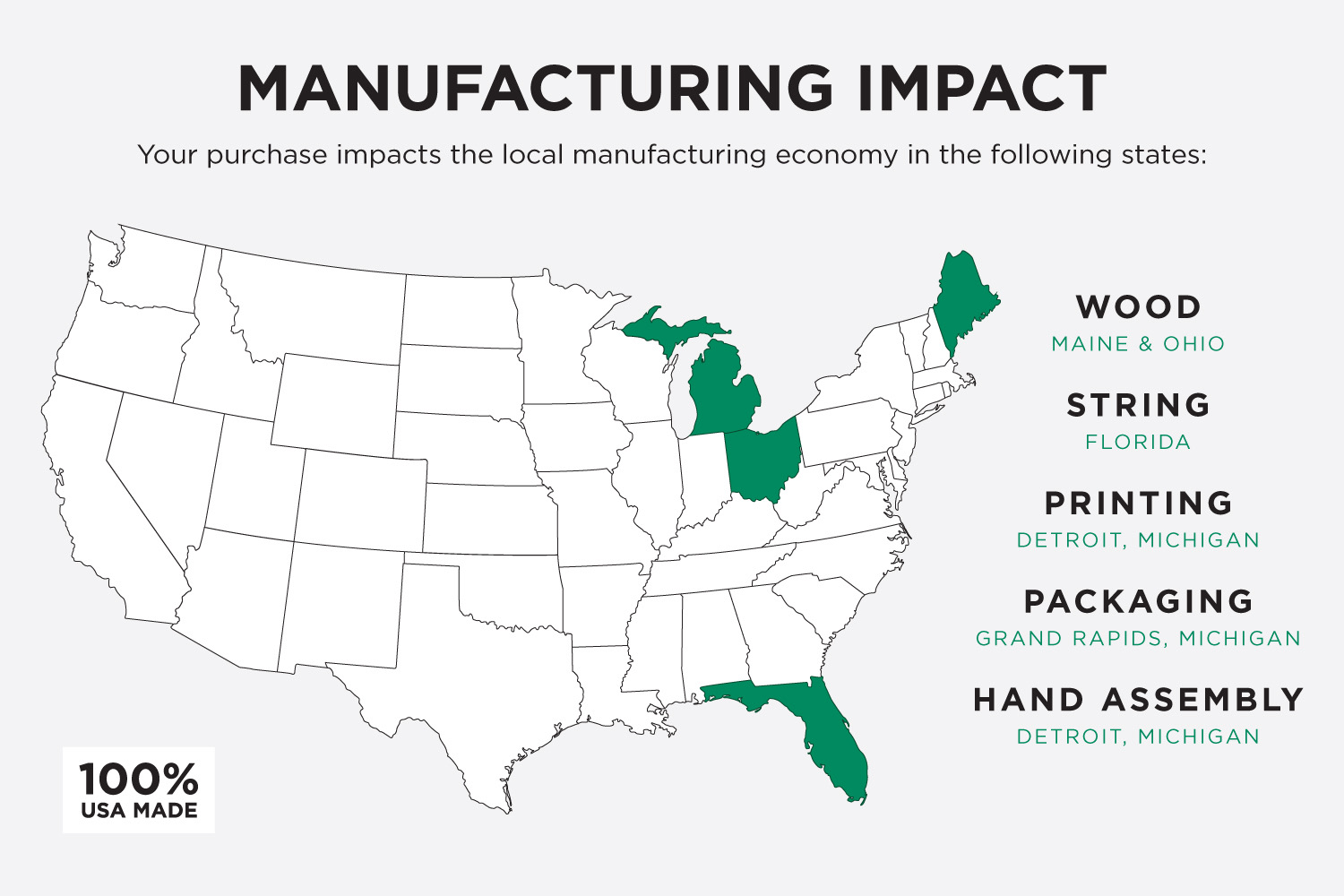 All of our products are made with 100% US-sourced materials, and are assembled by hand in Detroit.
This allows us to have a high level of oversight and quality control, and gives us the opportunity to impact our local economy through regional manufacturing. To date, we've contributed over $250,000 into the Detroit economy. See each product page for details.
All of our products are built to last for years to come.
We use top-notch materials and partner with the best vendors, guaranteeing high quality products. If an issue does arise, we have a 100% Happiness Guarantee. Contact us and we'll take care of it right away.
We feel lucky to work with the best of the best, and hire from our local community whenever an opportunity arises. Our
team helps us every step of the way. From initial prototyping to product launches, overseeing large-scale manufacturing to managing our wholesale accounts. Our team is nimble, hardworking, and keeps us moving forward in a strategic way.
Our studio is located within POST, a storefront and creative co-working space in the Jefferson-Chalmers neighborhood of Detroit. In this space we prototype our products, do final assembly work, and handle quality control checks for our entire line. If you'd like to learn more, you can check out a full studio tour here.
We often have creative businesses or student groups come in to tour our studio. Depending on our schedule, we're happy to accommodate. If you'd like to see our process in person, reach out at contact@taitdesignco.com and we'll set something up.